As the future hurtles forth, we have many new and often strange entertainment options to choose from. But when those options get extended to include a whole extra reality, things get serious. And when that whole extra reality includes a whole lot of porn…well, mayhem breaks out.
At least no robosexual hate crimes were committed.
(Image courtesy lewdgamer.com.)
According to inverse.com
, Japan's first pornographic virtual reality festival was given a serious case of blue-screen blueballs when far too many people arrived for the e-orgy and police had to be called in (and not in the sexy way.) Overcrowding and possible riot concerns forced the inaugural Adult VR Fest in Akihabara, Tokyo to close its doors to a very, very eager assault of attendees.
Exhibits included an…um, interactive...robotic hand, a boxed-in fan system that simulates the feeling of feeling someone up, and an inflatable female torso that was specifically designed to accompany a VR game (no Nintendo Power Gloves are gonna cut it for this generation of gamers!)
Oh, future. You never cease to amaze us.
(Image courtesy uploadvr.com.)
Vice magazine
reported that a blogger known as Eizo0000, who had attempted to attend the convention, reported, "Outside the building for the Adult VR Fest, the unofficial waiting outside the building spanned both sides, so it was a real hell here. These people are the people putting their lives on the line for Adult VR."
Regarding the target demographic of this titillating technology, Eizo0000 said, "They don't like this world, and they know women don't see them in a good light. They have their own needs that have yet to be fulfilled, but they don't want to bother anyone with them. Thus, they turn to a new world."
The organizers of the event have already vowed to find a more amenable venue to contain the concupiscent crowd for the next installation of the festival.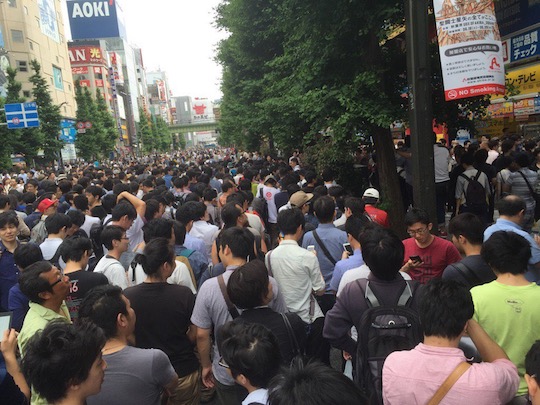 Because seriously, who wants to get killed or crushed in the name of
getting kinky with a computer?
(Image courtesy tokyokinky.com.)