Hello, space fans! It's been another wonderful week for the humans and spacecraft whipping around over the world. Here's what was up!
"Game Of Thrones" has nothing on this beast.
(Image courtesy NASA.gov.)
The SpaceX Dragon cargo craft arrived safely at the station on Wednesday, after launching on Monday from Cape Canaveral aboard a Falcon 9 rocket. The Falcon then returned to Earth, while the Dragon will remain docked at the station for several more months.
SpaceX's master plan for creating re-sable rockets
is no longer just science fiction.
This particular landing was not on a barge, but they did land vertically, successfully!
(Image courtesy SpaceX.com.)
Some 5,000 pounds of
equipment, crew supplies, and scientific experiments
were aboard the Dragon. The research includes a miniature DNA sequencing device, a machine to help better control the environment aboard the station, a new form of computerized ship-tracking that could aid with maritime cargo routes or emergencies on earth, a study regarding astronauts' bone loss in space, a series of small computer chips that will undergo space-radiation exposure testing, an innovative new carbon-nanotube solar cell, and much more.
A long-exposure shot of the Dragon departing and the Falcon reentering.
(Image courtesy NASA.gov.)
The Dragon was
grappled to the station
using the 57.7 foot robotic arm, the Canadarm-2. Commander Jeff Williams and NASA astronaut Kate Rubins orchestrated the capture. It will remain attached to the ISS until August 29th, when it will
return to Earth
bearing important scientific data for recovery. More details on the research aboard the station
can be found here.
These fine folks at the Johnson Space Center's Mission Control
aided in the Dragon's capture.
(Image courtesy NASA.gov.)
As the Dragon was hurtling skyward on Monday, the Progress 64 Russian cargo ship arrived at the station, bearing even more supplies, including food and fuel.
Progress, progressing.
(Image courtesy NASA astronaut Jeff Williams.)
Speaking of supplies, do you ever wonder what the ISS astronauts eat to keep their strength up, up there?
Here's a NASA blog article
detailing some of the culinary choices in the cosmos!
That looks pretty tasty, on-planet or off.
(Image courtesy NASA.gov.)
Other station science activities
this week included work on cell cultures, genetic expression, bone loss, and changes in heart muscle tissue. And of course, Commander Jeff Williams found time to capture some glamour shots of the home planet.
"Glacier in northern Pakistan."
"Morning in the Canary Islands..."
Mt. Kilimanjaro.
"Using the robotic arm, we grabbed ourselves
a Dragon cargo vehicle after a successful rendezvous."
-Commander Jeff Williams, total badass.
That's all for this week, space fans! We'll see you next Sunday with more awesomeness from just outside the atmosphere...watch this space!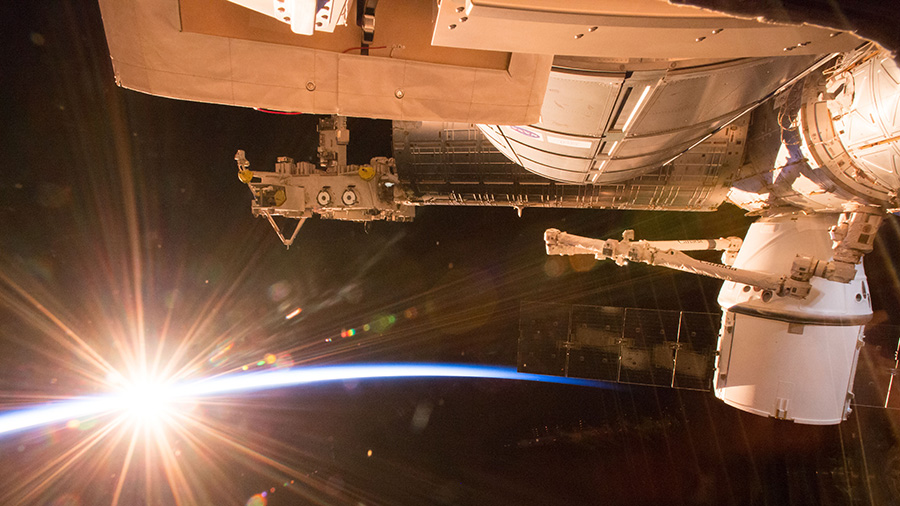 The Dragon basks in the sunshine after floating to its sky-home.
Great work from everyone who strove to get it there!
(Image courtesy NASA.gov.)