Good afternoon, space fans! It's been another exciting week in space...here's what was up!
"In peace for all mankind, I declare this my new chillax room."
Astronaut Jeff Williams inspects the B.E.A.M. module
(but later closed the hatch, leaving the B.E.A.M. empty for further study.)
(Image courtesy NASA.gov.)
This past week, the Bigelow Expandable Activities Module (B.E.A.M.) was
opened and assessed by NASA astronaut Jeff Williams
. The inflatable structure was architecturally sound, even after being flat-packed, shipped into space, and filled with air.
Williams placed sensors inside the module to monitor its climate and other important elements. This will help improve
techniques used to identify leaks on the ISS
. The module will remain aboard for at least the next 2 years as the astronauts study its viability in the harsh climate of space.
Williams assesses the B.E.A.M.;
finds no way that alien squatters can sneak in.
(Image courtesy NASA.gov.)
The
Orbital ATK spacecraft, Cygnus
, will be
returned to Earth on Tuesday
. It will depart the Unity module of the ISS via extraction with the Canadarm-2 robotic grappling arm, manned by astronauts Tim Peake and Tim Kopra.
However, instead of
immediately
crashing in a crazy fireball back down to earth, it will continue to orbit for eight more days, as scientists study the combustive properties and orbital mechanics of it crashing in a crazy fireball back down to earth. This data will be calculated by the tragic-sounding (but interesting)
ReEntry Breakup Recorder.
Peake and Kopra, along with cosmonaut Yuri Malenchenko, will then send themselves home on the Soyuz TMA-19M on Saturday. Safe travels, spacefarers!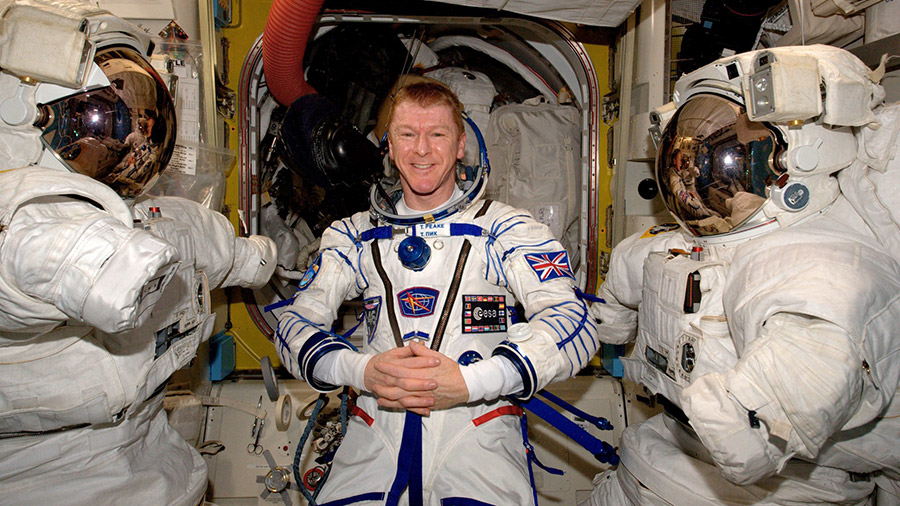 Tim's had a jolly good time in space,
but it's time to return back down dirtside after 186 days...
(Image courtesy Tim Peake.)
Space science experiments this week included studying the
accelerated aging process of skin while in space
,
radiation's various impacts on the station
, and the
nature of plant hormones' effect on their host when grown in micro-gravity.
The astronauts also continued studies on the station's various
vibrations endured during dockings
and also its technology for
hurricane prediction.
This time next week, astronauts Jeff Williams will be COMMANDER Jeff Williams when he assumes the helm of the ISS for the official start of Expedition 48. We hope he still has time to take his amazing photos! Here's a few from this week...
Mt. St. Helens, in Washington.


The White Sands National Monument (and Missile Range), New Mexico.
"I feel like this picture may actually be worth 1000 words.
International Space Station floating silently over the Andes."
-Astronaut Jeff Williams
That's all for this week, space fans! We'll see you next Sunday with even more excellence from orbit. Watch this space!
Want to learn about dizziness in space?
Tim did an experiment for you.
Safe travels home!
The magnificent Milky Way maintains...
(Image courtesy Tim Peake.)