The description sounds like the ultimate futuristic vehicle, but the technology is here today: an autonomous, 3-D printed, electric shuttle bus. As of today, it's transporting the citizens of one of America's oldest cities into the future…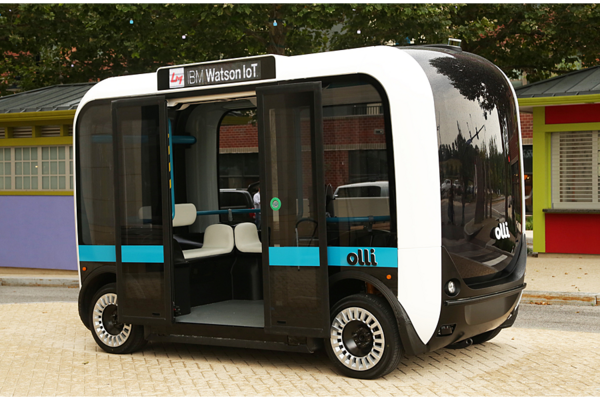 This cozy little computer-generated craft
might be revolutionizing shared vehicles in big cities.
(Image courtesy csmonitor.com.)
According to The Verge
, the new 12-person shuttle bus, called Olli, was developed by the Arizona-based company Local Motors, which crowdsources its vehicle designs. It is the first vehicle to operate via IBM Watson's "Internet Of Things For Automotive" cognitive learning program.
Today, Olli makes its driving debut at the National Harbor campus near Washington DC. Visitors can take a spin in Olli throughout the summer, as well as learn more about 3-D printing and other exciting new developments for automobile fabrication.
A surprisingly pleasant interior, for a motorized shoebox.
(Image courtesy recode.com.)
Edgar Sarmiento, Olli's designer, wants the vehicle to solve problems for the greater good. "I tried to make this vehicle flexible to a lot of things," he explained. "This one is a public solution for cities. It's simple, minimalistic, to make a shape like a box, and all of this related to the use of the product. I was born in Bogotá, a big city that is going to reach 10 million people. It's a context to start to think of problems in the city as far as transportation and to think of solutions."
Justin Fishkin, Local Motors' Chief Strategic Officer, was enthusiastic about the innovative Olli. "This is the world's first autonomous on-demand shuttle," he explained. "So basically you call it on an app and it picks you up just like Uber and it will talk to you."
"Did you call it?" -"No, did you call it?"
"I think it's following us...shh, walk normal."
(Image courtesy valuewalk.com.)
It's cognitive capacity includes the ability to remember a passenger's preferred destinations, using speech-to-text and sensors to "learn" more about its fares. The motors, sensors, and electronics are outsourced but compatible with other similar electric vehicles. The battery could be any of the modern electric ones, including those from Tesla Energy or Samsung SDI.
Local Motors has also opened branches in Knoxville and Berlin, with other local "microfactories" imbued with the ability to fabricate parts like drivetrains. Cities like Miami-Dade and Las Vegas have already planned to use Olli vehicles as part of their transportation infrastructure. And the "crowdsourcing" element means that even more Ollis could show up as new manufacturing paradigms emerge.
"As Silicon Valley and Detroit converge, we sit nicely in the middle," Fishkin enthused. Local Motors'
3-D printed Strati car
had also made headlines last year for its innovative craftsmanship and cool look.
The future rolls on, humans! Hit the power button and hit the road!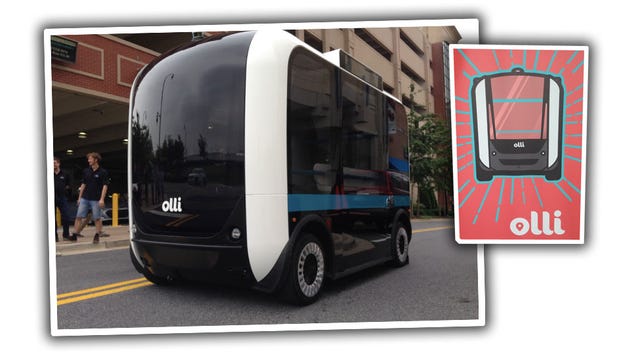 What a cute little motorized shoebox!
Could this possibly make urban transport seem more...gasp...friendly?
(Image courtesy inusanews.com.)