Good afternoon, space fans! It's been an amazing week for astro-adventuring. Here's what was up!
The SpaceX Dragon joins the ISS party, and brought one really interesting
balloon from Bigelow Aerospace...
(Image courtesy spacex.com.)
On Friday, the SpaceX corporation launched a Falcon 9 rocket from Cape Canaveral. Aboard was a Dragon spacecraft bearing a payload of scientific supplies, food, and other items for the station crew, but most intriguingly, it ferried up a whole new chunk of space station.
The Bigelow "B.E.A.M." inflatable habitat,
an expandable module that creates a new "room" for the ISS, was one of the most significant items aboard.
No word on whether the B.E.A.M. will be the preferred area for ISS dance parties.
(Image courtesy universetoday.com.)
The B.E.A.M.
(Bigelow Expandable Activity Module) is a great addition to the orbital laboratory, an a first for space life. The innovative inflatable design allows for a number of possible uses for storage and science. The module weighs 3,086 lbs., and its skin of comprised of layers of soft fabrics instead of metal. At peak expansion, the B.E.A.M. can hold a volume 4,227 gallons (not that they're going to fill it with space beer, though), and is 13 feet long.
Since the technology is as of yet untested in actual space, B.E.A.M.'s first run will have it assessed for necessary standard capabilities, like radiation protection and general longevity. If successful, habitats like B.E.A.M. could cut costs for transporting living spaces into space (due to its lighter construction) and also provide a simpler way to give the astronauts more room. Such habitats could also be useful in a manned mission to Mars, where conventional construction may be more time-consuming and treacherous.
Boom! More space for our spacefarers, sans all that difficult construction in micro-gravity.
(Image courtesy techcrunch.com.)
At 07:23 EDT this morning, ESA astronaut Tim Peake and NASA astronaut Jeff Williams maneuvered the Canadarm-2 robotic grappling arm to snag the Dragon from the heavens. As of 09:57 EDT, the Dragon was safely bolted to the underside of the ISS's Harmony module. Six spacecraft are now currently attached to the station.
CATCH!
The Dragon swoops to the station.
(Image courtesy NASA.gov.)
Other
new experiments
aboard the Dragon included science projects involving protein crystals grown in micro-gravity, and assessment of fluid behaviors on a nano-scale. As usual, studies
regarding the human body in space
were diligently tended to.
Go team!
(Image courtesy NASA.gov.)
And while the Dragon's arrival on the ISS was very cool...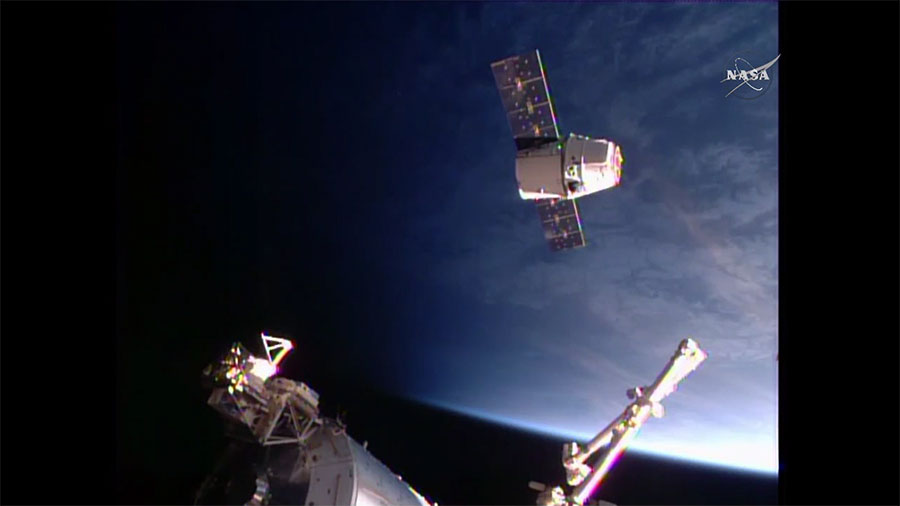 Snag that spacecraft!
(Image courtesy NASA.gov.)
Low Earth Orbit is some unique gang turf.
(Image courtesy NASA.gov.)
...it was what happened to the remainder of the Falcon 9 rocket back on Earth that really grabbed the world's attention.
On Friday, SpaceX was able to achieve a new first when the descending Falcon 9 rocket (the same one that launched the Dragon) was able to land upright - and stay that way - on a droneship barge off the coast of Florida.
SpaceX's initial efforts had not been without issue...
"Space is hard." -Astronaut Scott Kelly
(Image courtesy hi-news.ru.)


...but perseverance paid off!
s
The droneship is seriously named "Of Course I Still Love You."
And we do!
(Image courtesy mainenewsonline.com.)
Some seriously special spacefaring. What will they attempt next?
(Image coutesy wikipedia.org.)
The landing of the Falcon 9 is critical for future spaceflight developments, as reusable rockets could cut launch costs by 30% or more. More
videos and details can be found here
! Congrats to Elon Musk and the SpaceX team!
This is what all that fire means.
(Image courtesy businessinsider.com.)
That's all for this week, space fans! Tune in next time to see even more from the finest in flight above our atmosphere! Watch this space!
We'll leave you with a quick world tour, from Namibian dunes...
(Image courtesy NASA astronaut Jeff Williams.)

...to the Hindu Kush! See ya 'round, space fans!
(Image courtesy NASA astronaut Jeff Williams.)