Good afternoon, space fans! What wonders were worked on this week, hundreds of miles above our heads?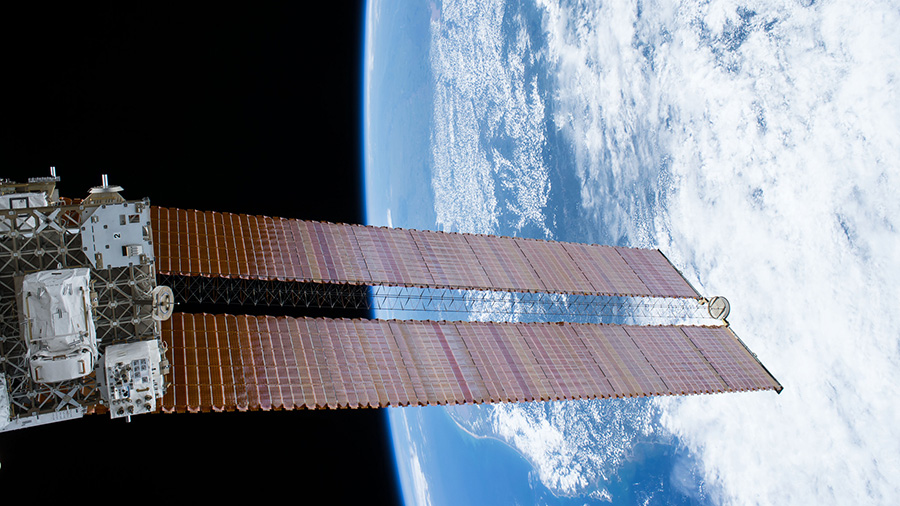 It's all about solar: the station's solar arrays soak up the rays.
(Image courtesy NASA.gov.)
The Cygnus spacecraft, created by Orbital ATK, was sent home for a fiery funeral this week, burning up a stash of the station's trash as it careened, self-immolating, back through the atmosphere on Saturday. NASA astronauts Scott Kelly and Tim Kopra used the station's
57.7-foot Canadarm2 robotic arm
to grapple the craft away from the station and release it into the void.
They don't even need to shoot a flaming arrow at it for a Viking-style funeral...
the atmosphere takes care of that.
(Image courtesy NASA.gov.)
Cygnus, an unmanned craft,
arrived
at the ISS on December 9th, bearing some 7,000 pounds of cargo. It was referred to as
the "cutest" spacecraft at the ISS
by Gizmodo.
The Soyuz TMA-18M craft attached to the station will also be departing soon, though bearing far more precious cargo. The spacecraft will ferry the One Year Crew of Scott Kelly and cosmonaut Mikhail Kornienko back to their gravity-embraced lives after almost a full year on the ISS (340 days, as of March 1st.) Cosmonaut Sergey Volkov, who has served on the station since September in his third sojourn to space, will be returning with them.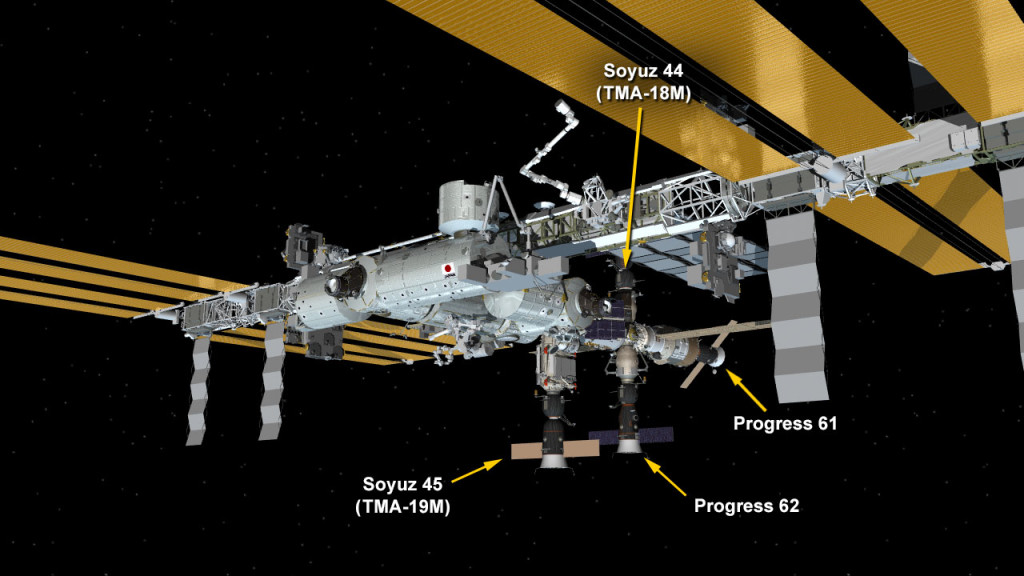 Seems like it'd be tough for the Soyuz 44 to squeak out of that parking space,
but maybe not, since...space.
(Image courtesy NASA.gov.)
In mid-March, another Soyuz craft (the TMA-20M)
will arrive
bearing the three new crewmembers of Expedition 47 - NASA astronaut Jeff Williams and cosmonauts Oleg Skripochka and Alexey Ovchinin. Meanwhile, the current crewmembers performed experiments
testing station microbes
and
assessing cardiac function in space.
Continued tests on the
astronauts' vision
were also underway.
Speaking of vision, the crew got to
play
experiment with
Microsoft's Holo Lens
, which projects holograms in 3D to facilitate visualizing all sorts of interesting things in (apparent) real-life. The holograms could fill out gaps in a construction or design scenario, or aid in expressing the elements of other items, like an exploded diagram that can be manipulated via computer. Sounds like just the thing for a modern spaceship!
"It was all going so well until we found the Alien Invaders game..." - Astronaut Tim Peake
(Image courtesy facebook.com.)
We're glad Scott got to have some fun this week, because today is his birthday! You can send him a card via NASA's
"Happy Birthday Scott Kelly"
site (no need to pay the ~$18,000 postage that a 3-ounce card would cost to send to space!) And, though his departure date from the stars is imminent, astronaut Scott Kelly continued to capture amazing images of Earth to add to his near-year-long collection. From awesome aurorae...
To lovely landmasses...
As well as some magic over Macedonia...
That's all for this week, space fans! We'll see you next Sunday with more news on the return of the world-famous One-Year Crew! Watch this space!
Ten days left in space? We'd spend the whole time staring out the window.
Well, and flying.
(Image courtesy Scott Kelly.)