They say that dogs are man's best friend. So with all of the social media platforms used to make friends, why shouldn't there be one that includes canine companions?
This could be you. Or your dog.
(Image courtesy mymodernmet.com.)
That's the premise behind a new "matchmaking" app called Bark 'N Borrow, where people with pooches can lend them out to folks in need of some puppy love. The service's mission statement is, "Connecting dog owners with dog loving borrowers & professional dog sitters", and it caters to those who can't afford, house, or lengthily tolerate a dog, but who still like patting those sweet furry noggins.
If surfing with a frogdog wasn't on your bucket list, it is now.
Considering the fact that the dogs offered are indeed already someone's best friend, the service is careful to vet the borrowers. It also offers insurance and 24-hour support, in case of doggie emergencies. All extents of experience can be arranged, or as their FAQ explains, "Whether it be an afternoon walk, a day of play, a weekend, or a whole vacation period; Bark'N'Borrow aims to make sure our pets are always given the most amount of love and care."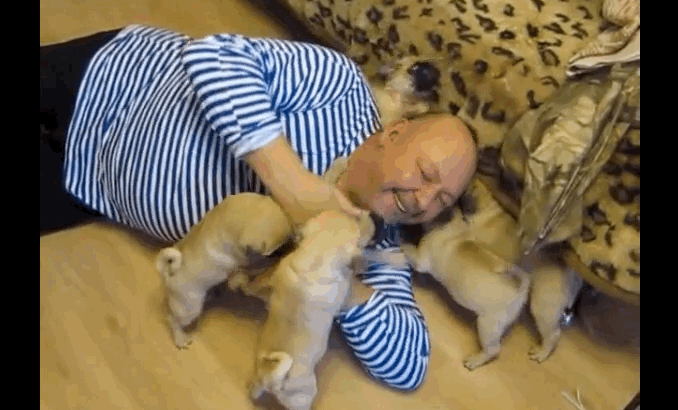 Love and care in exchange for the ultimate pug-hug?
Good deal.
(Image courtesy thedodo.com.)
Bark 'N Borrow also offers advertising and placement services for professional dog walkers, making the app a well-rounded community of canine caretakers. The app also connects people with pups who need more socializing (for the dogs, that is), so that doggie playdates can be arranged.
Bros before throws.
(Image courtesy failpix.info.)
Best of all, for those seeking to borrow or lend, the service is completely free. Simply set up a profile - much like other online matchmaking services, you include a photo, personal info, reasons for seeking a (puppy) pal, and traits you're looking for (in the dog) - and the connections can commence.
You can download Bark 'N Borrow
free for iOS
. Who knows? You may end up learning something cool from your new furry friend.
Want to pick up some sick skateboard skills?
Hang out with Otto, he's a world record holder!