It's a fast-paced world in modern times, one in which it's easy to lose your shirt. Fortunately, the future has some fashion sense, and a new 3-D printer is ready to deliver it straight to you, sans stores or shopping.
Futuristic tank tops, just in time for all the global warming!
(Image courtesy domusweb.it.)
According to factcoexist.com,
a new type of 3-D printer is able to spew strands of material reminiscent of Spider-Man's skills, except the webs create wearables. The electrically-charged liquids solidify in a technique called "Field Guided Fabrication" to form a beanie, skirt, or tank top.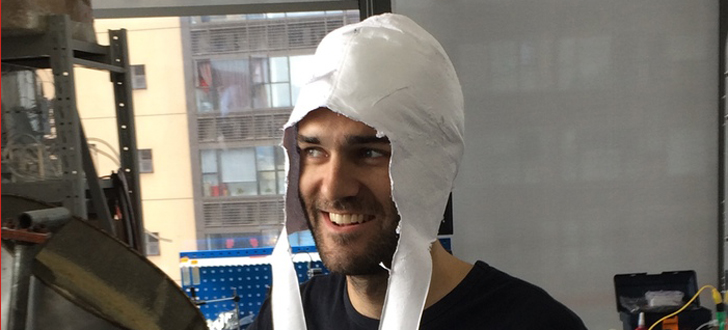 Hipster fashion in the future is going to get even more weird.
(Image courtesy lesimprimantes3d.fr.)
Created by the startup company Electroloom, the printer removes laborious boundaries that conventional stitching/weaving/etc. create. This, in turn, could help the environment as well as companies' (or private owners') overhead costs.
"A lot of the potential sustainability benefits that may come from this technology come from the elimination of a lot of intermediate steps," says Electroloom co-founder Aaron Rowley. "We take raw materials and then convert them into a non-woven fabric in a single step."
Your Spidey-senses are stylin'!
(Image courtesy idarts.co.jp.)
After perfecting the art of making swatches of suede-ish tissue, the Electroloomers worked their way up to full garments. Since the printer operates from precise digital files, the clothes can be accurately "tailored" to your measurements, hot off the press. This also eliminates the waste of fabric, which is common with conventional clothiers.
"We have also run experiments that show we can successfully take a finished material and then redissolve it and reuse it to make something entirely new," says Rowley. "That's quite exciting when you consider the future—we might one day be able to recycle worn garments or fabrics in this type of technology rather than tossing them in a landfill."
Eat your heart out, Giorgio Armani.
(Image courtesy 5illy.me.)
While the current cloth is not as durable or malleable as your regular duds, the company is working hard to improve their technology. A
Kickstarter campaign
has also been undertaken in order to allow people to experiment with the designs used. The company has been attempting to form fashions from silk, cotton, and polyester, in a variety of colors (and soon, more styles!)
Will Electroloom's creations be gracing catwalks in New York and Milan next Fashion Week? Will Dolce and Gabbana, Louis Vuitton, or Calvin Klein lose their status to a robot? And can the Electroloom
finally
make a pair of jeans that fit perfectly? We'll find out, as the future of fashion is imbued in the tenets of technology too...oh, and don't forget your
computerized color-changing shoes
to complete that new tech-tailored outfit!
Could togas make a modern, sexy comeback thanks to Electroloom?
(Image courtesy butterboom.com.)