For everyone who has ever marveled at the sight of a rocket launch, or enjoyed the victorious thrill of watching a moon landing or spacewalk, we know that the excitement of space travel is deeply ingrained in the human psyche. Even just checking out pictures from space (or reading
Space Station Sunday
) can encapsulate some of that enticement. Now, the spirit of space adventure and another popular pasttime - porn consumption - are teaming up to go where no man (and woman) have gone before.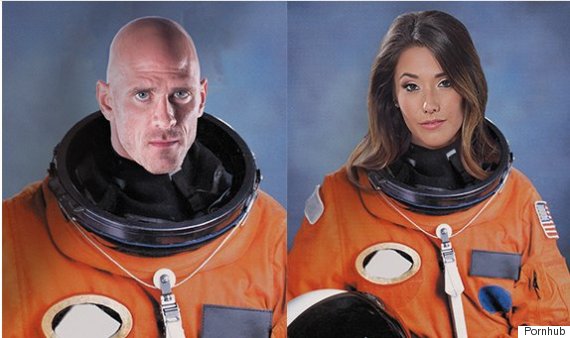 Like it or not, these two may make some very hot history.
(Image courtesy huffingtonpost.com.)
According to the Huffington Post
, the popular online erotica archive of Pornhub has commenced a crowdfunding campaign to bring sexiness into space.
Their "Sexploration" initiative
is seeking to raise $3.4 million dollars to send two porn stars up towards the actual stars.
Houston, we have no problem at all with this.
(Image courtesy vice.com.)
Stars Eva Lovia and Johnny Sins will helm the mission, and much of the money raised is to cover their training and associated spacefaring costs. The orbital orgasms will be filmed by a six-person team, who will also undergo thorough astronaut training.
According to Pornhub vice-president Corey Price, "If all goes well, the schedule will include an entire six months of training for space travel for our crew and performers before we're comfortable with launching them into space...We need to know all participants are sufficiently prepared for the rigors of space-age coital activity (as well as filming in or past the stratosphere)."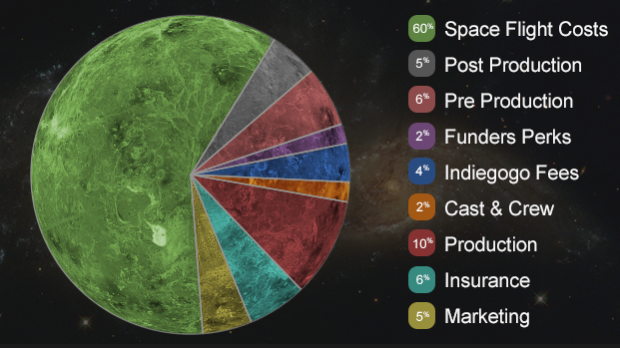 "Uranus"-level donors get to keep a sexed-up spacesuit. Really.
The stars intend to commence coitus the moment their launch vehicle begins ascent, culminating in a free-flying fuckfest once the bonds of gravity are broken some 68 (maybe 69) miles above earth. While the laws of conservation of momentum (namely, banging body parts together with no atmospheric resistance) may complicate the logistics of this emission mission, the adventure would at least make for an interesting science experiment.
While no disclosure has emerged of the exact method that the asstronauts plan to use to enter space, a press representative enthused that Pornhub has been in talks with several private spaceflight companies. NASA and the International Space Station will not be involved (much to the dismay of the sexually-sacrificial
One Year Crew
.)
The One Year Crew will just have to hope that these ladies make a flyby.
(Image courtesy dailygalaxy.com.)
If their campaign is successful, the anticipated release date for the movie is late 2016. Pornhub is proud to be fucking in the final frontier, claiming this mission was born from "a love of sex and science."
That's one small schtup for a man, one giant leap for mankind!
Pioneering and pornography, two of humanity's greatest inspirational elements.
(Image courtesy outsideonline.com.)