Heads up...the next shiny chunk of future is about to fall of the tech tree and land on your wrist. The much-heralded Apple Watch will go on sale next Friday, April 10th...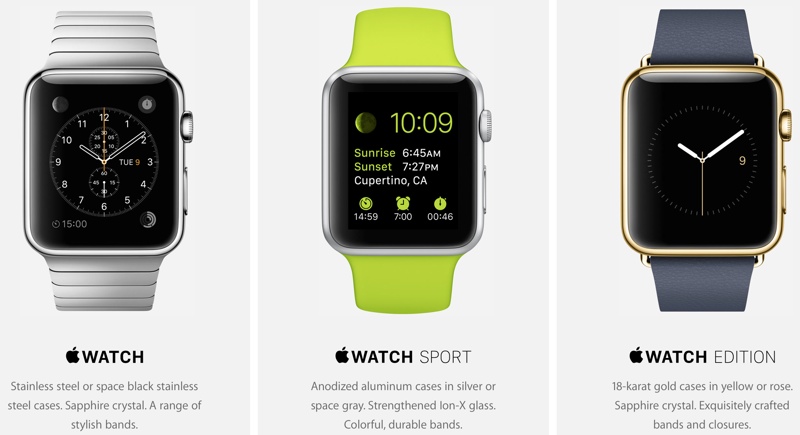 Anything with "space" in the color title has got to be interesting.
(Image courtesy macrumors.com.)
According to
techcrunch.com
, the
Apple Store website
has just announced that at 12:01 PDT next Friday, you will officially be able to purchase a gadget that will make you feel more James Bond-y than ever, at least if it means conquering the evils of boredom, disorganization, and timekeeping.
The watches are available in three styles: Watch Sport, Watch, and Watch Edition.
The "Sport"
, a.k.a. the starter model, starts at $349 and comes with a silver aluminum case (38mm or 42mm), Ion-X glass face, and a white, pink, blue, or green sport band. It also comes in the same sizes with a black sports band and an aluminum case in our favorite color, Space Grey.
If you can't justify the cost, think of it as a little art installation for your arm.
(Image courtesy expertreviews.co.uk.)
Options explode from there, with the
regular Watch
offered in the same sizes, starting at $549 and offering 20 different models, including interesting leather and metal wristbands. The Space Black color option with matching link bracelet will run you just over a grand, but you can convincingly pretend that someday you might be headed for space. It's that futuristic.
The upper-tier watches also offer advantages like ultra-strong sapphire crystal faces and durable stainless steel or gold housing, but all of the models offer a suite of onboard apps, including email, text, phone, fitness tracking, maps, Siri, camera remote (for triggering your other i-device for selfies), TV remote, music, stocks, stopwatch, photos, weather...wait a second, PHONE? Yep. A phone on your wrist. Want to mute a call? Just cover it up! If only real life interactions could be dealt with so simply.
LEAVE A MESSAGE!
(Image courtesy www.dailymail.co.uk.)
Other apps from the
Apple Watch App Store
are available, covering things from travel to sports to games to adjusting the temperature inside your BMW before you hop in. There's even a Sky Guide app so you can enjoy phenomena in the night sky, provided you ever look up from your wrist again.
For those who are looking for what is essentially a high-tech Rolex, the
Watch Edition
models start at $10,000 and feature 18-karat-gold (yellow or rose) cases. The gold alloy is twice as strong as boring old regular gold, just in case you for some reason end up abusing a watch worth more than many peoples' lives.
What half of the average American's yearly income looks like, in rose gold.
(Image courtesy computerworlduk.com.)
If you're jonesing for more info RIGHT NOW, you can call up Apple's specialists at 1-800-MY-APPLE and talk timepieces.
By the way, 12:01 PDT is around 3 AM in New York City. We know you'll be much better at timekeeping than any non-Apple-Watch wearers after next week, so we just wanted to tell you that and feel useful one more time before being once again replaced by robots.
Thanks for clicking, and keep on ticking!
Good luck, bootleggers.
(Image courtesy technobuffalo.com.)