The thing about dealing with information supergiants is that they not only have power over who sees your secrets and how, but they'll also discuss them when comprehensively covering what dirtier deeds than your own were begged to be scrubbed from the internet.
Such is the nature of Google's semiannual transparency report, another installation of which was released today. For the first time,
this report included some 30 examples of material that had been expressly asked (mostly by government operatives) to vanish from the common knowledge
, as though what was reported on was really actually bad enough to transcend the public's millisecond-length attention span.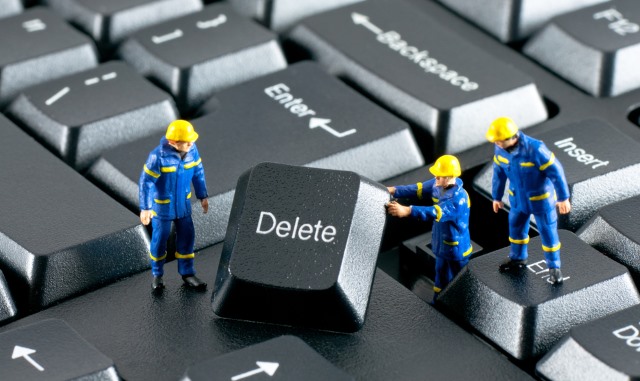 There's a lot of skullduggery out there...removing the evidence is kind of a big job.
(Image courtesy betanews.com.)
According to newsweek.com, some of it really WAS bad enough that it could ruin lives simply by remaining in the public eye. Prison inmate abuse, serious sexual accusations, and purported "defamation" of numerous police officers were all included in the materials requested for removal. None of these requests were granted.
By Google's anaylsis, nearly 8,000 requests were made for information removal during 2013. These covered the e-extraordinary rendition of some 14,367 pieces of information. Requests were up 60% from 2012 to have one's secrets permanently kept that way (at least from the eyes of the internet.) The
full transparency report
including cases and actions taken is available for analysis.
The specific offending material varied, with governments making 1,066 requests for content be removed from blogs, 841 requests for removal from Google searches, and 765 requests to never again grace the screens of YouTube. These requests comprised the time period between July and December 2013 alone.
Unsurprisingly, people said and did a bunch of dumb stuff caught on Twitter too.
(Image courtesy transparency.twitter.com.)


The most cited reason for the prospective purge was explained as "defamation" (36%), with nudity/obscenity (16%) and security (11%) also making excuses. Google was quick to admit that their report is not a full account of possible online censorship, but is a good metric in that "it does provide a lens on the things that governments and courts ask us to remove, underscoring the importance of transparency around the processes governing such requests."

You can run, and you can rant, and sling all the press and televised mess you want, but you can't hide from the internet. Little Brother has just as many cameras and ears as Big Brother. The "embarrassing" (and maybe appropriately defamatory) results are more than elements of evidence: they are mirrors to our very society. A stark and honest appraisal of that image requires the full picture of our actions, no matter how ugly.
So that's how that works! Thanks, transparency!
(Image courtesy watchdog.org.)