This Christmas season, Santa and his sleigh team are going to find some more traffic in the skies. Today,
the FAA granted approval for four commercial companies to fly drones
for the purposes of conducting aerial surveys as well as observing oil stacks and construction sites.
According to USA Today, the selected companies - Trimble Navigation Limited (
TRMB
), VDOS Global, Clayco Inc. and Woolpert Inc.- will be among the first to utilize drones for commercial purposes. The FAA has still got a ways to go concerning the exact rules of operation and regulations for flying drones in commercial airspace, but hopefully this development will shed more light on what will work best for future drone aviation.
This has to be handled well, to avoid aerial traffic jams.
(Image courtesy online-shipping-blog.endicia.com.)
The
first commercial drone license
was granted this June for a drone to keep watch over BP's Alaskan oil pipeline. The FAA has received 167 requests for commercial drone flight clearance, including one from Amazon, who seek to use drones for delivery purposes.
Jeff Lovin, senior vice president of Woolpert, Inc., was enthusiastic about his company's new acquirement of air access, which will allow their 5-foot, 15 pound drone to examine parts of rural Ohio and Mississippi from the air. He explained that drones "will change the way we conduct some of our existing business in the not-too-distant future, but more importantly, will create completely new and world-changing applications we haven't even thought of yet."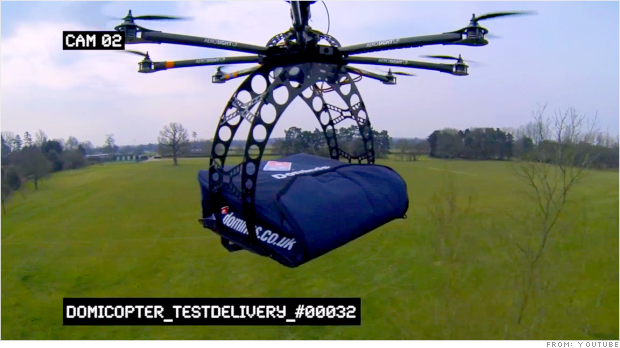 Soon.
(Image courtesy boingboing.net.)