Good evening, space fans! Today the crew of Expedition 42/43 set off from Baikonur cosmodrome in Kazahkstan, bound for the ISS. The launch, carried out at 21:01 GMT (16:01 EST), was a success.
A fine day for some rocketry (there wasn't too much snow!)
According to
rt.com
, the spacecraft will travel for 6 hours to reach the ISS. Aboard are NASA astronaut Terry Virts, Italian astronaut Samantha Cristoforetti, and Russian cosmonaut Anton Shkaplerov, who will all spend the next 169 days circling the earth.
The arrival of Cristoforetti will make it the second time in ISS history that two women (the other being Russia's Yelena Serova) have been aboard for long-duration mission. As reported by
ABC News,
Cristoforetti has previously served as a captain and fighter pilot in the Italian Air Force. Regarding her new mission, she is focused on only the matters at hand, saying, "Space is what I do for work, and that's what I think about it: It's my work."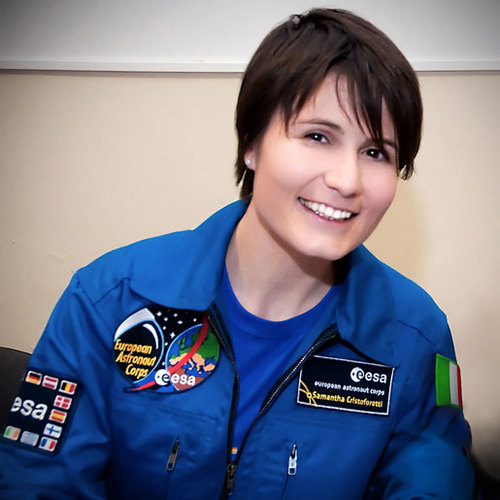 She may be focused on work, but she's inadvertantly making flight suits part of the hot new Italian fall fashion.
(Image courtesy blogs.esa.int.)
As for the others in this line of work, Cristoferetti is in distinguished company. According to
wikipedia
, her crewmate Anton Shkaplerov is a colonel in the Russian air force. He has served as a senior pilot instructor and Instructor of General Parachute Training, completing over 300 jumps. He has also served as the Russian Space Agency's Director of Operations at the Johnson Space Center in Houston, and has previously worked aboard the ISS as a flight engineer during Expedition 29/30.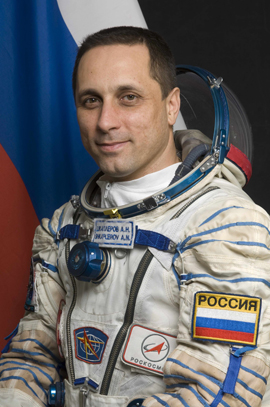 Not only are his skydiving credentials impressive, he's also good at sky-lurking, having conducted a spacewalk during his last ISS mission.
(Image courtesy claudedelafleur.qc.ca.)






Rounding out the new crew is NASA astronaut Terry Virts, who hails from Maryland. A colonel in the United States Air Force, Virts is a distinguished experimental test pilot with over 3,000 hours spent in more than 40 different types of aircraft. His piloting expertise isn't limited to earth, as he was also the pilot of the Space Shuttle during STS-130 (which notably helped deliver the much-beloved, multi-windowed Cupola module of the ISS.) Prior to this mission, Virts had been serving as CAPCOM in Houston, communicating with the ISS from the ground.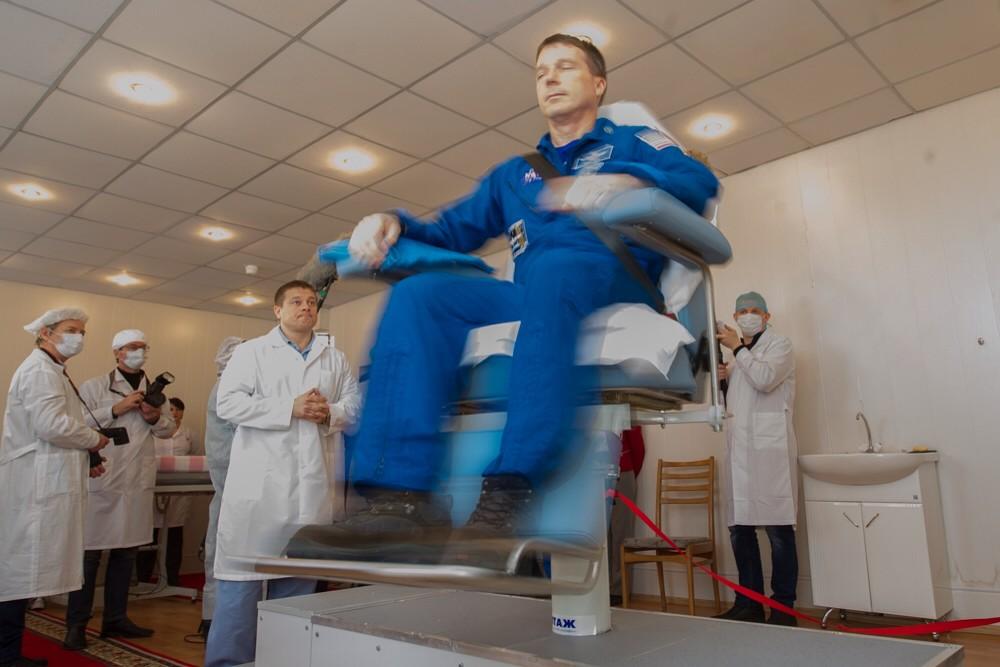 The unflappable Colonel Virts shakes off some final training in a vestibular chair, designed to practice for the effects of the mission.
The new crew will chart their mission progress through their respective social media outlets, including
@AstroSamantha
(Cristoferetti),
@AntonAstrey
(Skhaplerov), and
@AstroTerry
(Virts.)
Meanwhile, up in orbit, business continued as usual. According to NASA.gov, Commander Barry "Butch" Wilmore spent time working on an experiment that analyzed plant root growth in micro-gravity, as well as replacing hardware on the Combustion Integrated Rack (where all the cool set-things-on-fire-in-space experiments occur.)
Astronauts Yelena Serova and Alexander Samokutyaev kept busy with installing new gas detection hardware, cleaning vents, and venting gas from an onboard air conditioner. They also worked with a chemistry experiment that will be used educationally with Russian schoolchildren. Other routine maintenance and scientific tasks were tended to on schedule.
Speaking of schedule, the new crew are expected to arrive at the ISS at around 10pm EST this evening, and you can watch it live on space.com. Hatch opening coverage begins at 11pm. We'll have more details from the mission next Sunday, when we'll see how the crew has adjusted to their new floating life...watch this space!
If you are reading this prior to 10pm EST on 11.23.14, these three people are currently hurtling through space.