What new photo tool brings the real hotness for your smartphone? Literally? How about
your own personal thermal imaging camera?
According to redferret.net, the
Seek Thermal Imaging Camera
is a new iPhone and Android-operable device that turns your smartphone into something like you'd spot in a cool spy movie. Thermal imaging cameras, which use infrared technology to sense the presence of heat, make any temperature-producing item visible, regardless of lighting conditions. Ninjas hiding in your house at night? Not anymore, you spotted them with Seek!
Your evil black cat may resent his fresh lack of hiding skills.
(Image courtesy NASA.gov.)
The Seek can detect heat signatures at up to 1,000 feet, recognize more resolutely at 250 feet, and identify specifics at 150 feet. As their product description explains, "Our eyes rely on light to see, Seek Thermal relies on heat
."
It has a spectrum from -40 degrees to 330 degrees Celsius, so you can just as easily determine if your drink is acceptably ice-cold as you can gauge how well-done your burgers are.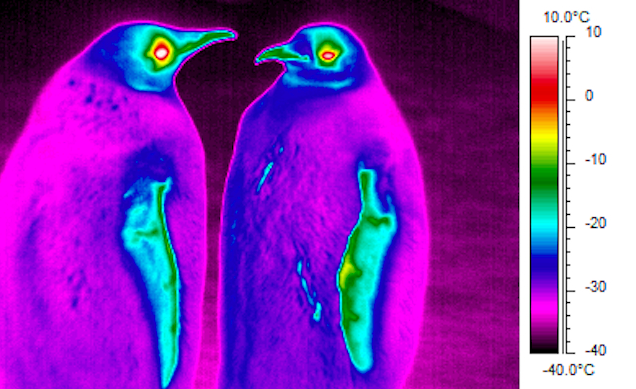 Your pet penguins can be kept suitably chill thanks to infrared analysis.
(Image courtesy boingboing.net.)
For $199, the 8-ounce, micro-USB-enabled Seek can capture all the hotness (or coolness) around you. It's the same technology that NASA uses to spot space phenomena, surely you too can come up with some interesting experiments! Besides, wasn't that sepia filter starting to get boring anyway?
AAHHHH, FLAMETHROWER ATTACK! Oh no, just a hairdryer in infrared.
(Image courtesy NASA.gov.)