With fossil fuels falling out of favor as a preferred power source, it's time for green energy to get a chance to shine. Now, a refueling station in England has become the first source of solar-derived hydrogen power, readily available to fuel your vehicle.
According to imeche.org
, the 15MW solar electric plant in Swindon now powers an industrial electrolyser that is able to use the power of the sun to separate hydrogen molecules from water. This is then stored for use by hydrogen-powered vehicles. Hydrogen can be produced at a rate of around 3kg per hour or up to 200kg per day, with 135kg in possible storage.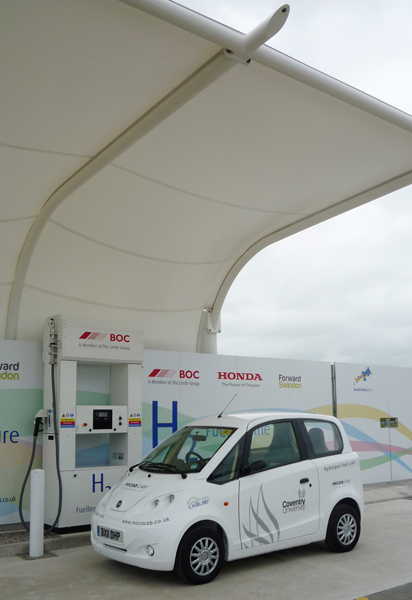 The first element might prove to be the best one. A hydrogen-powered micro-cab fills up in Swindon.
(Image courtesy microcab.co.uk.)
Some 15 additional hydrogen refueling stations are set to become permanent fixtures in England, with shopping giant Sainsbury's even adding an onsite pump at one of their popular locations in Hendon, North London. The Swindon site will be first the major marketability test, however.
Nick Rolf of gas supplier BOC explained, "We want to know the lowest cost and what the price of hydrogen will be at the pump. We've got an idea of what it will be, but this will validate that and stress test the concept. If it doesn't stack up commercially no one will want to buy the next one."
But if it DOES stack up commercially, the oil barons will soon be looking to the skies...
Get hy all the time...
(Image courtesy rsc.org.)