Some people worry about immigrants taking jobs from citizens. Others know that
the next big threat to employment might not be found in different humans, but similar robots.
That's right, automated androids might be serving you Big Macs in the near future.
This is already a thing in Japan (of course.)
As reported by aei-ideas.org, the time has come for robots to replace humans for repetitive, easily-customizable customer service work. Ordering by touchscreen isn't just for internet goodies anymore - it'll soon be a fast-food feature. Can full automation be far behind? With food service workers currently campaigning for an unlikely $15/hour (when Obama can't even cajole the minimum wage up to $10.10), a company like McDonalds may be inclined to roll with robots from a cost perspective alone. Robots don't need smoke breaks, bathroom breaks, meals or vacation (to say nothing of lawsuits and strikes.)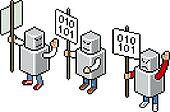 They ARE good at organizing...their messages are tough to follow, though.
The Wall Street journal confirmed this, saying, "By the third quarter of next year, McDonald's also plans to fully roll out new technology in some markets to make it easier for customers to order and pay digitally and to give people the ability to customize their orders, part of what the company terms the "McDonald's Experience of the Future" initiative." Automating the ordering, if not the production process, will be the first step in the switch. The company has already rolled out "ordering kiosks" in various locations such as Vienna, Austria,
according to Forbes.
While McDonald's is (unfortunately) not yet busy hiring MIT to make them a burger-bot Terminator that cooks fries with its laser eyes, many food-prep devices already exist (including for the major food groups of
burritos and pizza
.) Can automated Happy Meals be far behind? And what will become of the McD's fry jockeys then? If they all lose their jobs, be sure not to send them to
a bar helmed by robot mixologists like Monsieur.
Because that could easily spark a neo-Luddite fervor, if not the beginnings of an android apocalypse (okay, food service robots can't fight back, but they can burn your pizza or put pickles on your burger, and that's nearly just as bad, right?)
To be fair, the McBots have been warning us about this since the 1980s.
(Image courtest dailytech.com.)