Some days you might feel like a little black raincloud is hovering over you at all times. Thanks to a new invention, this sensation may be one you'll grow to enjoy.
For those who appreciate the chaotic coolness of a thunderstorm, a small-scale (and rain-free) version is now available to hang in your home.
The Smart Cloud is alternately a piece of art, a lighting device, and a stereo system. According to foxviral.com, the realistic-looking cloud simulates all the bells and whistles (claps and booms?) of a thunderstorm using powerful speakers to achieve its effects.
The Smart Cloud is also equipped with a motion sensor to soundtrack a storm in synchrony with whatever you're up to, which could make things very interesting for your next romantic rendezvous. If you tire of the natural noises, the Smart Cloud also operates via Bluetooth to stream your music collection.
A remote control is included, if you just want to kick back and play Zeus. The Smart Cloud currently retails for $3,360.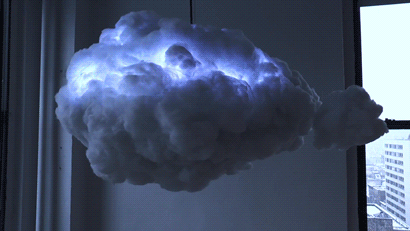 Cue AC/DC's "Thunderstruck."